Humidity and temperature data loggers are used to monitor various processes in manufacturing & production applications. They monitor process parameters in real time and relay the information via USB, 3G or wireless communication systems.

Technicians/engineers can access this information on cloud platform; making it easier to analyse ambient and process temperature/humidity faster. Whether in milk, hardwood, pharmaceutical, electronics or cone crushers.

The data loggers are designed to provide accurate humidity and temperature readings about all industrial equipment and processes. They help optimise operations through temperature/humidity profiling, process monitoring, data storage/identification and fault identification.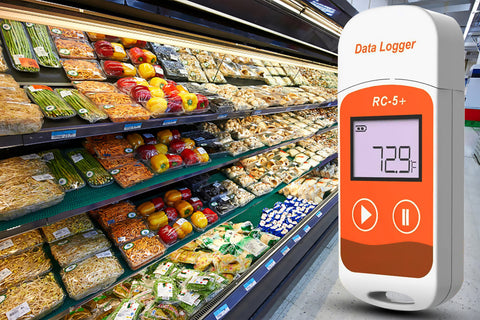 Multi-channel temperature and humidity data loggers are ideal for small, large and dynamic industrial applications. They have a large memory capacity with a convenient data sharing interface.

So far, manufacturing industries have improved complex cold chain supply systems to ensure material integrity, achieve high process yields and improve quality of end products. The LCD displays provide comprehensive information about any industrial process. Therefore, process technicians can make timely decisions in sensitive manufacturing processes.

Humidity and temperature data loggers do not require any proprietary software. Whether you opt for wired or wireless. They are easy to integrate with the existing industrial systems.

These data loggers will protect industrial processes from detrimental damage and costs associated with either low or high temperature/humidity.
ThermElc RC-5+ pdf temperature data logger features a plug-and-play USB port interface and allows for faster access to data collected in any cold chain management process. such as pharmaceuticals, food, life science, cooler boxes, medical cabinets, fresh food cabinets, freezer and laboratories. It generates PDF report automatically after connecting to PC or Android Phone, no software needed and encryptable via PC. Data could be queried, saved, printed, and exported in word/excel/txt /PDF format. It has wide measuring range: -30 ~ +70 °c with an internal sensor and large record capacity of 32000 points. ThermElc RC-5+ pdf temperature data logger will be an ideal choice for you!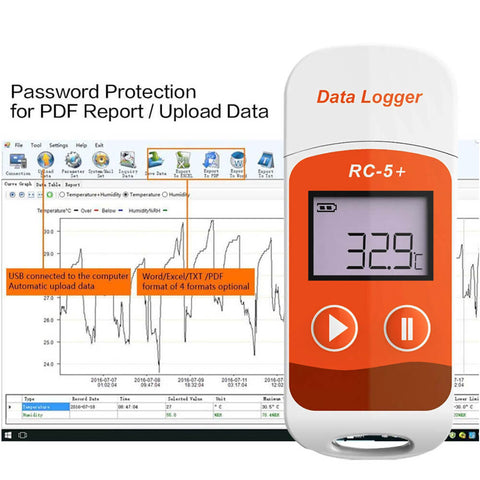 Key Features:
Multi-use temperature data logger with wide measuring range (-22℉~158℉/-30℃~70℃) and high accuracy (±0.9℉/±0.5℃).
Upgraded version of RC-5 with new functions of Auto PDF report (encryptable via PC or Android phones); Restart logger by button pressing; double battery life up to 12 months; external temperature sensor available for purchase.
Built-in USB port, no cable, no reader, even no software required to download data.
Lower power consumption and battery replaceable; records up to 32,000 points.
More features as IP 67 waterproof protection, 5 alarm ranges, ℃/℉ options, Excel/PDF report formats, free software for Windows & mac OS and etc.

Plug into a computer or Android phone (required OTG converter), read PDF report easily. Restart by long-pressing the left button.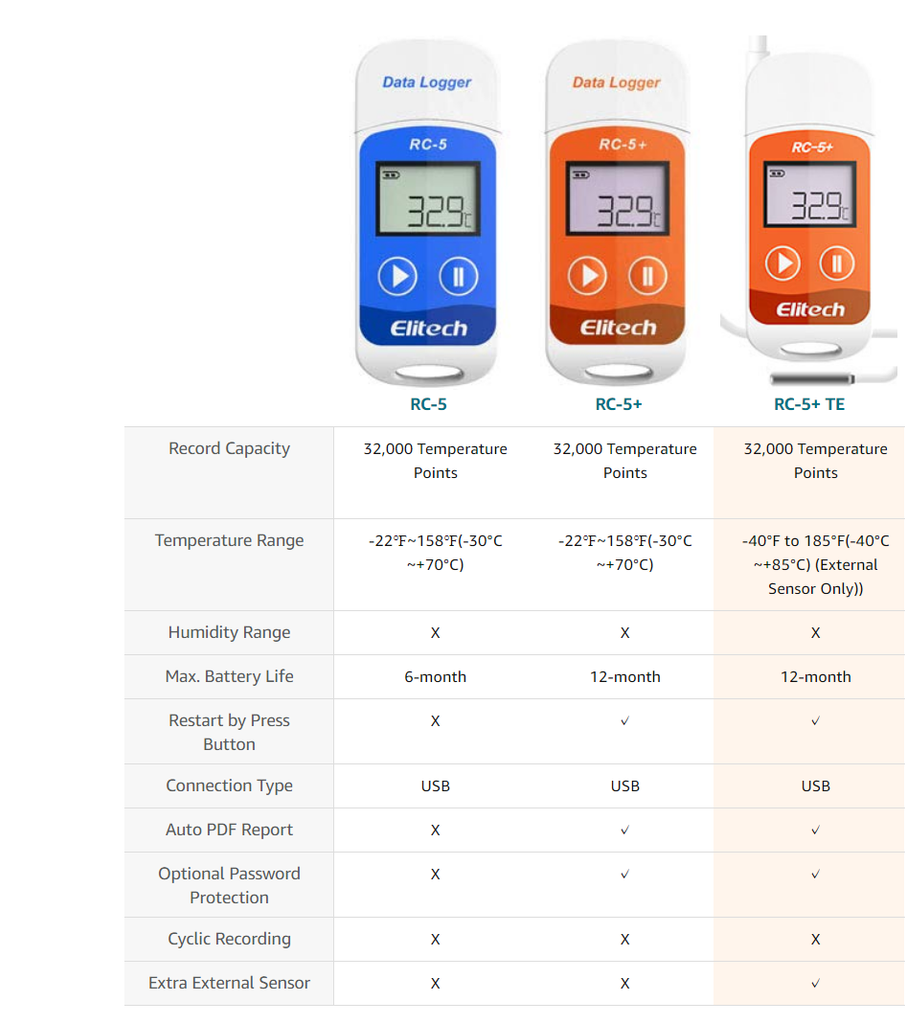 New Functions of the new one compares to the old version temperature data recorders:
Auto PDF Report: The new-added function allows the data loggerto generate a PDF report automatically.
Password Protection: Optional password protection will keep your datasafe and sound,
Double the Battery Life:  with a battery life up to 12 months (15℃~23℃/45%RH~75%RH), which doubles battery lifeof the old temperature loggers.