Description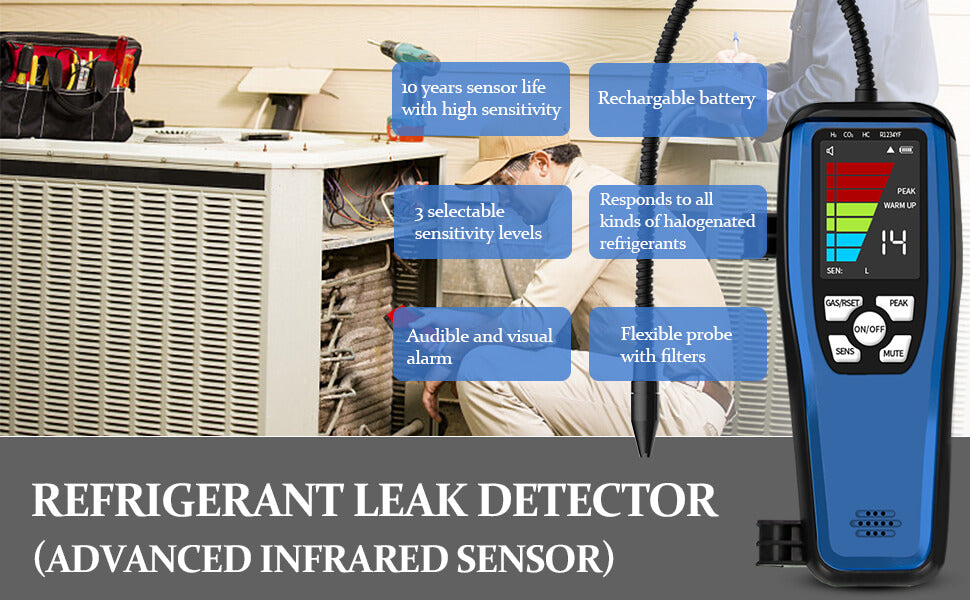 Therm Elc ALD-300 infrared leak detector is equipped with most advanced infrared sensor which is more accurate, more sensitive and less susceptible to interference. It can  immediately respond to almost all refrigerants including R22, R134A, R404a, R410A and all halogenated gastrants including HFCs, CFCs, HCFCs, and blends. The advanced infrared sensor enormously extends its sensor life up to 10 years, and provides a much more precise result on all halogenated refrigerants than the conventional corona and heat-diode sensors. It's the best hvac leak detector for all technicians.
Infrared refrigerant leak detector

Key Features:
[ Up to 10 years' Sensor Life ] The innovated sensor that enormously extends its senor life up to 10 years, and also a much more precise result on all halogenated refrigerants than the traditional corona and heat-diode sensors.

[ Refrigerants Selectable ] GAS button allows you to select the corresponding refrigerants per different leakage sources, more preferable to professional users.

[ Peak Function ] PEAK button allows you to mark the maximum leakage value during measurements for further usages.

[ 3 Sensitivity Levels ] High/Medium/Low; With a maximum sensitivity up to 0.14oz/yr.

[ Safe & Reliable ] Strong anti-interference and meets EN14624,SAE-162,SAE-2791 and SAE-2913 standards. Free return or exchange within 3 months!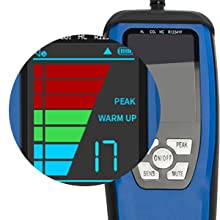 The powerful display and the large screen size make the readings clearer and easier. A battery indicator will even be displayed, allowing you to check the battery level at any time.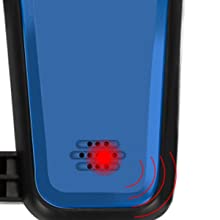 The sound and light alarm allows you to work the way you want to work.
The Six-hour battery life lets you work all day before recharging.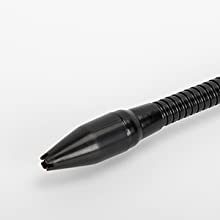 The ILD-300 Advanced Halogen Leak Detector is designed exclusively to make the HVACR Technician's job easier, faster, safer, and more efficient.
Instruction
1. The power indicator: real-time instructions battery allowance
2. When opening the buzzer status in green, closing status in the red
3. PEAK button instruction: indicates the PEAK function status, and the light will be on when you use this function
4. The maximum leak record: When the PEAK function is turned on, it can record the maximum leakage value you detect
5. The current leakage indicator: indicates the current leakage
6. Fault alarm: When the sensor failure, a fault indicator shows up
7. Warm-up countdown: warm-up time is 30 seconds. When the power in on it will show the warm-up process in the countdown
8. The sensitivity level: display the current sensitivity level