Description
CF-20 air quality detector helps you breathe cleaner air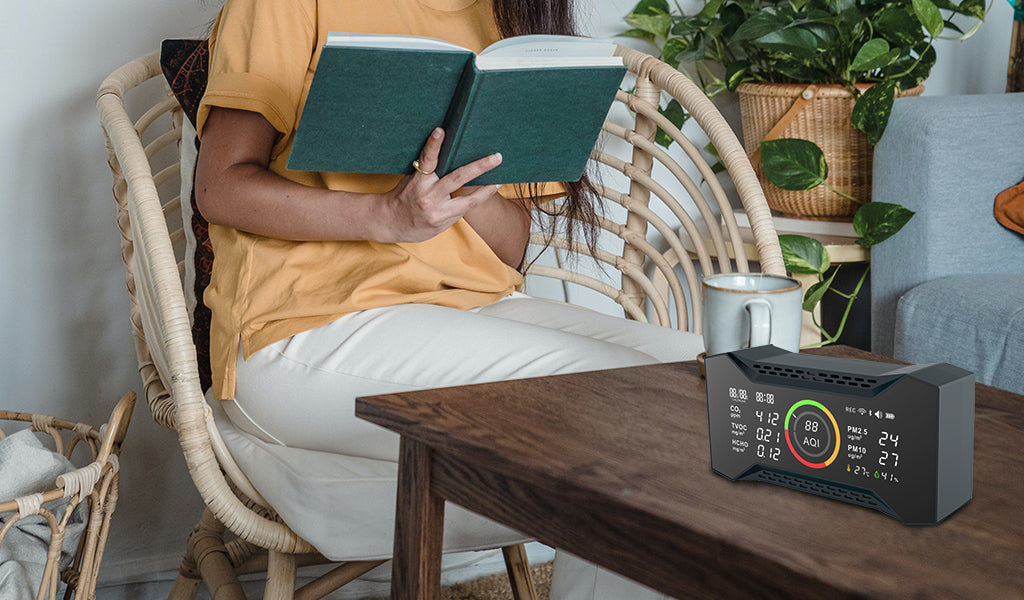 Make invisible air pollution visible, and see what's in the air you breathe.
Humans breathe about 28800 times a day. 95% of our homes have air quality problems and pollution factors, but we can't really know the air we breathe every day. Our CF-20 air quality detector uses laser sensors to accurately detect a variety of pollution factors in the air, like PM2.5, PM10, CO2, HCHO, TVOC, temperature and humidity. Especially since the outbreak of COVID-19, many medical experts and air scientists have shown that poor air quality can seriously affect people's health. The high concentration of carbon dioxide indicates that the current environmental ventilation effect is terrible, which increases the risk of virus transmission. In addition, too high humidity, excessive dust, harmful gases emitted by furniture and construction waste will aggravate allergic symptoms. The CF-20 
air quality monitor
can be used in homes, schools, gyms, offices, and restaurants, alert you to unsafe levels via an indicator light and track air quality, which help you to improve the quality of life.
Air quality detector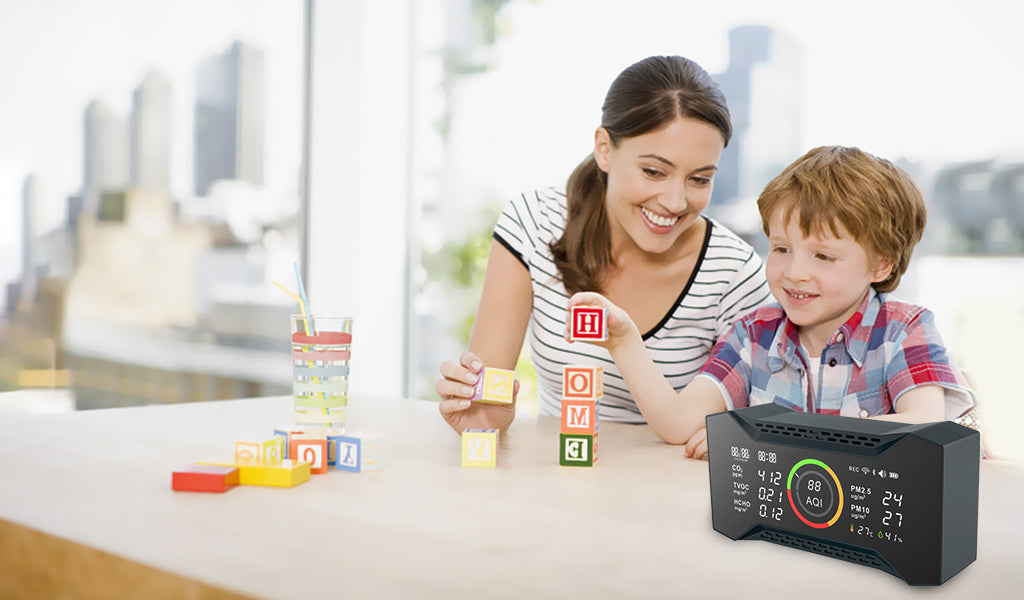 KNOW YOUR AIR
Track temperature, humidity, carbon dioxide (CO2), TVOC, Formaldehyde (HCHO) and particulate matter (PM2. 5, PM10) in your space, know the air which you have breath, keep your family safe by using the CF-20 air quality sensor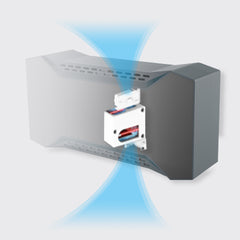 HIGH ACCURACY INDOOE AIR QUALITY MONITOR
The CO2 detector is designed with advanced Non-Dispersive Infrared (NDIR) technology, and it provides highly accurate measurements. The accuracy can reach ±50ppm or ±5% of reading.
The sensor has a long service life, up to 15 years.
DATA LOGGER&DATA REPORT
You can view up to 15 days of history reading. And you can export data report and save it on your PC. It is very useful for you to analyze historical data.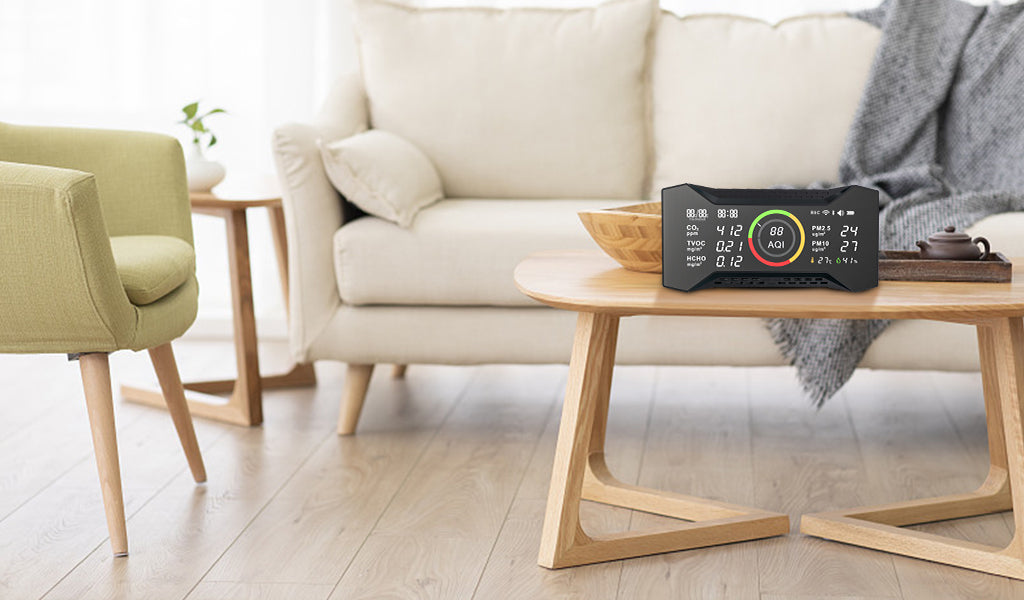 EASY TO USE
Just press the start button on the top of the product and you will get the current air quality data.
All parameters are clearly displayed on the LCD screen. When the value exceeds the air health value, the indoor air quality monitoring will give an audible alarm.
Better Air, Better Life
For patients with allergic symptoms, maintaining good air quality can reduce the recurrence rate of allergy. At the same time, good air quality can also comfort the mood, help breathe, and reduce the possibility of headache and cough. According to scientists, a health air environment will also reduce the speed of virus infection too.
| | | |
| --- | --- | --- |
| | CF-20 | CF-5 |
| PM2.5 | Yes | NO |
| PM10 | Yes | NO |
| HCHO | Yes | NO |
| TVOC | Yes | NO |
| AQI | Yes | No |
| CO2 | Yes | Yes |
| Temperature& Humidity | Yes | Yes |
| Data Export | Yes | Yes |
| Battery | 18650 lithium battery | 18650 lithium battery |


Specifications
Hardware

      

      Battery

18650 lithium battery

Mode

CF-20

Display

LCD

Sensors

Temperature

 

Range

-10°C to + 50°C

Accuracy

±0.5°C

Humidity

 

Range

0% to 100% RH

Accuracy

±5% RH

CO2

 

Range

0 – 5000 ppm

Accuracy

±50 ppm or ±6 % of reading

TVOC

 

Range

0.005-9.999mg/m3

Accuracy

±15 % of reading

HCHO

 

Range

0-2mg/m3

Accuracy

 

PM2.5

 

Range

0-999ug/m3

Accuracy

±10ug/m3

PM10

 

Range

0-999ug/m3

Accuracy

±30ug/m3

AQI

 

Range

 

Accuracy

 
Pollution
Hazards of air pollution
The effects of air pollution on the human body vary depending on the type of pollutant and the length and level of exposure—as well as other factors, including a person's individual health risks and the cumulative impacts of multiple pollutants or stressors.


The harmful factors in the air are:
CO2
Over the past century, many scientists have shown that excessive carbon dioxide concentration does great harm to human body. As the concentration CO2 in air rises it can cause headaches, dizziness, confusion and loss of consciousness.

However, because the concentration in the natural air is only 0.037%, its harm is often ignored. With the development of industry, a large number of combustion gases are discharged, the concentration of carbon dioxide in the air is increasing, and various hazards are shown.
In particular, because of covid-19, Singapore scientists, have found that too high carbon dioxide indicates that the high concentration of human beings, will increase the speed of transmission of viruses. So in recent years, European countries have issued regulations requiring public places to provide carbon dioxide detection equipment, to avoid people gathering.
Particulate(PM2.5/PM10)
Atmospheric particulate matters are the general name of various solid and liquid granular substances in the atmosphere. Various granular substances are evenly dispersed in the air to form a relatively stable and huge suspension system, namely aerosol system. Therefore, atmospheric particles are also known as atmospheric aerosols.
 In 1918, Frederick George Donnan, a British physical chemist, found that colloidal chemical processes have important similarities with cloudy atmospheric processes. Therefore, referring to the term "hydrosol", the term "aerosol" was introduced to refer to dispersed particles and droplets in the air. Aerosol is a heterogeneous system, which is composed of particles and gases. Dust, smoke, smoke, fog and haze commonly seen belong to the category of aerosol. In many literatures, atmospheric particles and atmospheric aerosols refer to particles in the atmosphere. Those with a diameter of 10 microns or less (PM10) are inhalable into the lungs and can induce adverse health effects. Fine particulate matter is defined as particles that are 2.5 microns or less in diameter (PM2.5).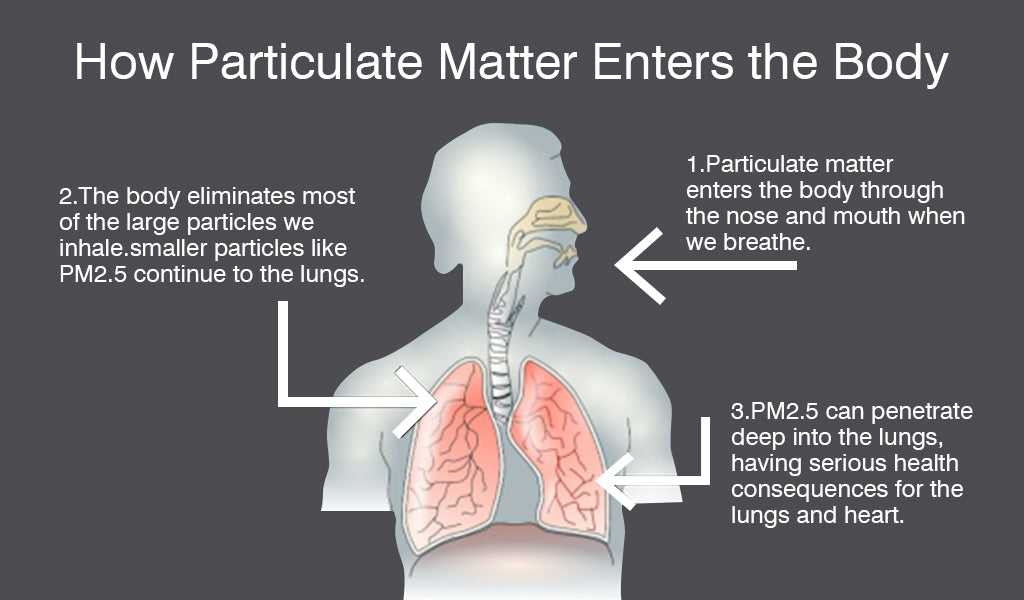 Particles with a particle size of less than 3.5 microns can be inhaled into human bronchi and alveoli and deposited, causing or aggravating respiratory diseases. A large number of particles in the atmosphere interfere with the radiation of the sun and the ground, thus affecting the regional and even global climate.
A study from Europe said that long-term exposure to polluted particles in the air would increase the risk of lung cancer. Another report said that the concentration of these particles or other air pollutants will rise in the short term and increase the risk of heart disease. European epidemiologists have found that lung cancer is significantly associated with local air pollution particles. 
The researchers also found that even a brief increase in pollution levels, similar to the haze warning issued by cities, would increase the risk of hospitalization or death from heart failure by 2% - 3%. The study applied these data to the United States and found that if PM2.5 per cubic meter of air was reduced by 3.9 micrograms, nearly 8000 hospitalizations caused by heart failure could be avoided every year.
The products for air quality detector 
Formaldehyde-HCHO
On October 27, 2017, formaldehyde was included in the list of class I carcinogens in the list of carcinogens published by the international agency for research on cancer of the World Health Organization.
On July 23, 2019, formaldehyde was listed in the list of toxic and harmful water pollutants.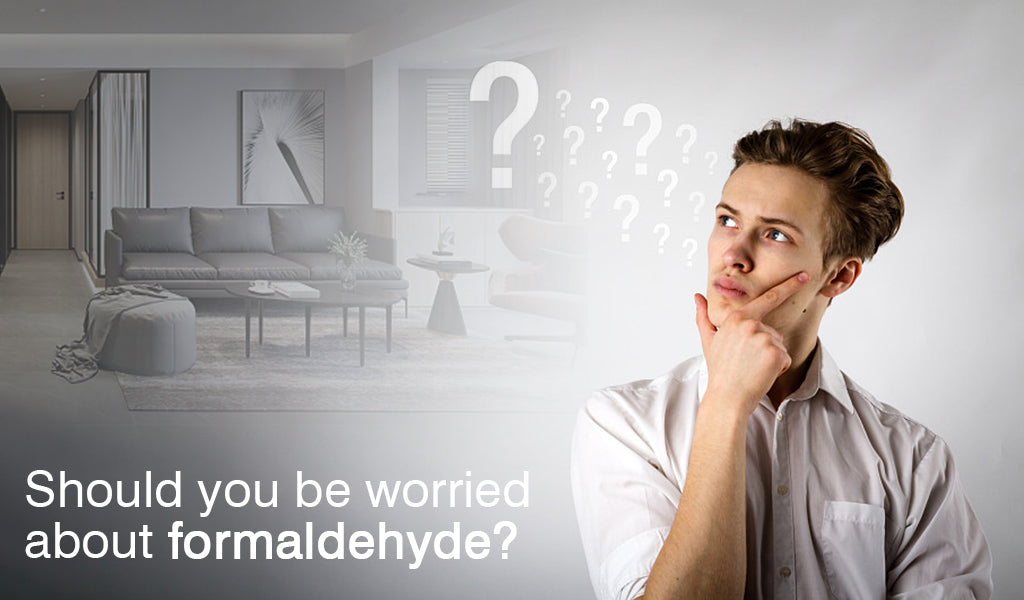 Formaldehyde is a colorless and tasteless gas, but it is irritant and can stimulate human skin and mucous membrane. Formaldehyde itself is a protoplasm toxic substance and can combine with protein. High concentration formaldehyde will cause serious irritation to respiratory tract after being inhaled by human body, resulting in edema, dry eyes, tears, headache, etc
TVOC
TVOC is one of the three kinds of indoor air quality pollution. TVOC mainly from fuel combustion and transportation; indoors, it mainly comes from combustion products such as coal and natural gas, smoke from smoking, heating and cooking, adhesives, coatings, paints, plates and wallpaper in building and decoration materials, furniture, household appliances, furniture, detergents and human body emissions. There are nearly a thousand kinds.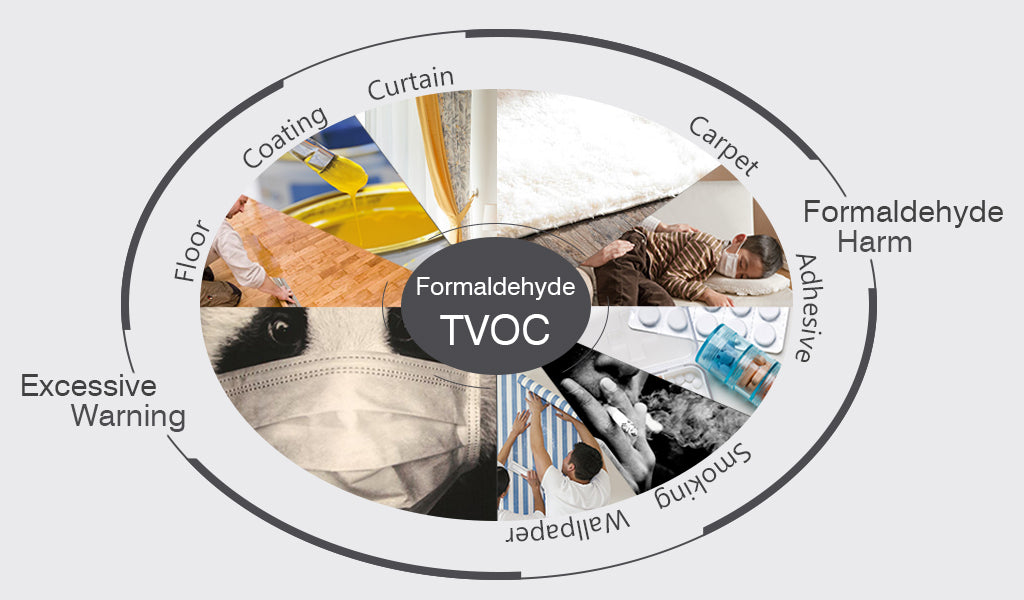 TVOC has pungent smell, and some compounds are genotoxic. TVOC can cause the imbalance of immune level, affect the function of central nervous system, and produce conscious symptoms such as dizziness, headache, drowsiness, weakness and chest tightness; It may also affect the digestive system, such as loss of appetite and nausea. In serious cases, it may damage the liver and hematopoietic system, and cause allergic reactions.