Description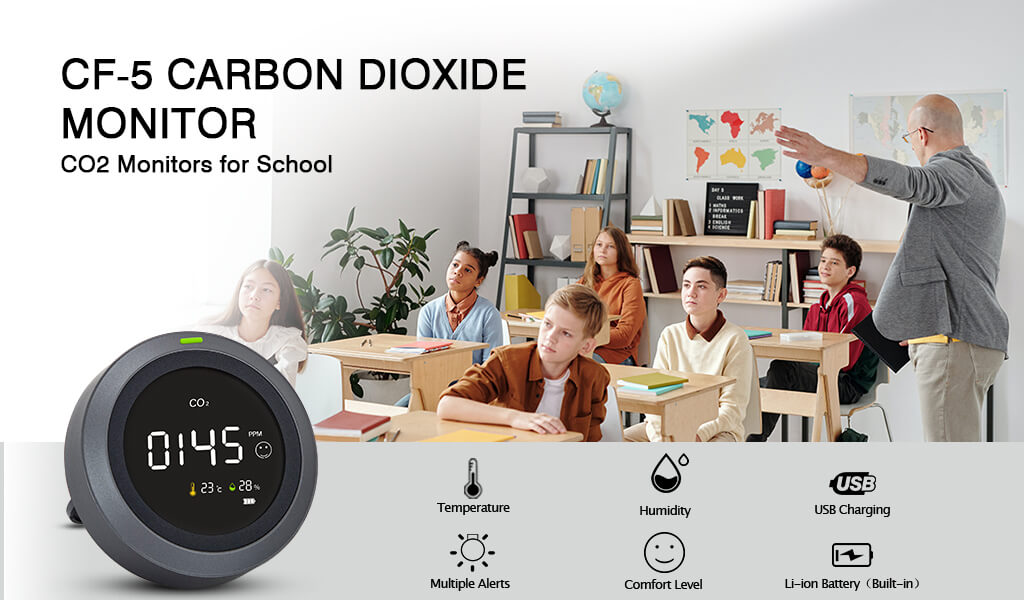 EASY CALIBRATION-The CO2 air quality detector uses non-dispersive infrared technology (NDIR). The air gas detector can calibrate automatically and calibrated by button.
HIGH ACCURACY-The indoor air quality detector is built in DART infrared sensors that can accurate detect air of Carbon Dioxide(CO2).
MULTIPLE ALARM-The air quality tester with multiple alarm, 3-color light indicator and 3 facial comfort expressions. You can intuitively understand the air quality you breathe.
PORTABLE AND VARIOUS USE-Size: 83*83*32 mm. This co2 sensor is easy to carry. The intelligent air quality monitor can help us detect the gas air pollution in household, kitchen, bedroom, office, school, car, hotel, travel, camping, party etc...especially in which has baby,child and pregnant woman.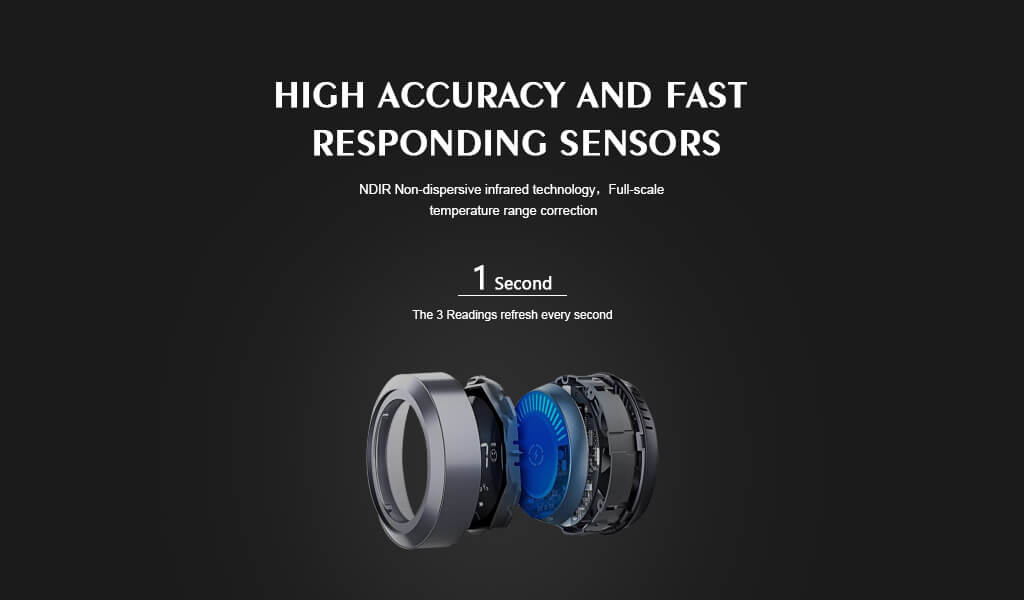 Automatic Calibration
Our carbon dioxide detector has been calibrated before leaving the factory. During use, the instrument can also be manually calibrated to ensure the accuracy of the test data.
Our products are only suitable for indoor air testing, and the test needs to be tested in a confined space!
Using carbon dioxide (CO2) monitors
People exhale carbon dioxide (CO2) when they breathe out. If there is a build-up of CO2 in an area it can indicate that ventilation needs improving.
Although CO2 levels are not a direct measure of possible exposure to COVID-19, checking levels using a monitor can help you identify poorly ventilated areas.
Clear Indicators
Indicator light to show battery power and  status.
Face indicator that can also detect carbon  dioxide levels
This monitor integrating CO2, temperature  and humidity detection can let you know the  air condition around you in an all-round way.




3-IN-1 Multi-function

Cubic Design
VA-LCD clear screen (3.14 inches)
Easy to get an overview of the readings of CO2, Temperature, Humidity.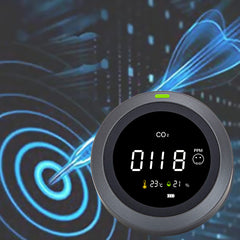 Types of CO2 monitor to use

There are many different types of CO2 monitors available. The most appropriate portable devices to use in the workplace are non-dispersive infrared (NDIR) CO2 meter.
The Harm of Carbon Dioxide
The normal content of CO2 is 0.04%. When the concentration of CO2 reaches 1%, people will feel stuffy, dizzy, and palpitations. When it reaches 4%~5%, people will feel wheezing, headache, and dizziness, and when it reaches 10%, It will cause serious disorders of human body functions, cause people to lose consciousness, become unconscious, stop breathing and die.
Carbon dioxide poisoning is a coma and cerebral hypoxia caused by people inhaling high concentrations of carbon dioxide. Generally, when the carbon dioxide content in the atmosphere exceeds 1%, people have mild poisoning reactions; when it exceeds 3%, breathing difficulties begin to occur; more than 6 %, it will be deeply poisoned and even die.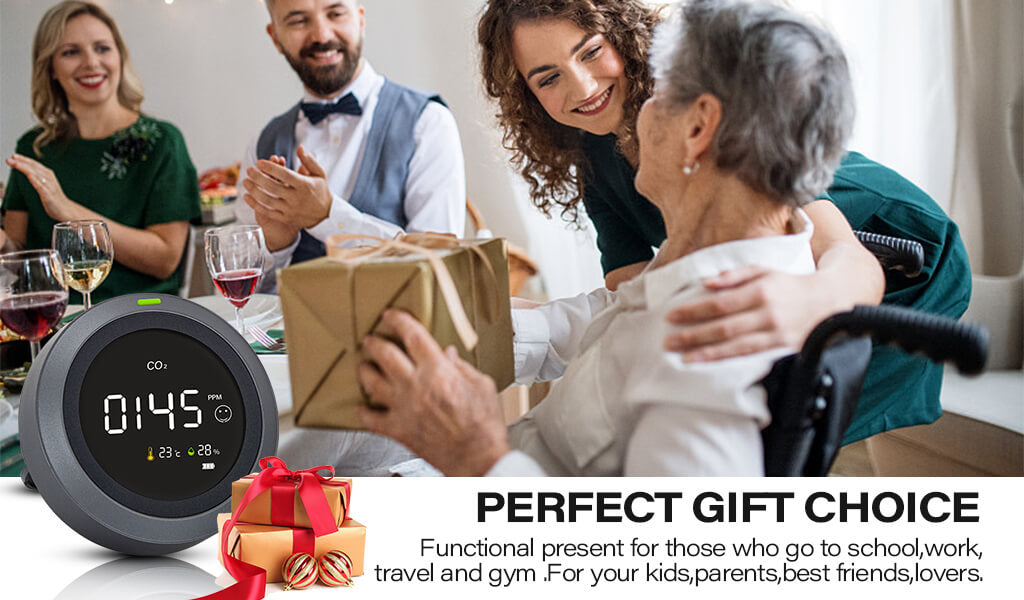 How to use a CO2 monitor
CO2 levels vary within an indoor space. It's best to place CO2 monitors at head height and away from windows, doors, or air supply openings.
Monitors should also be positioned at least 50cm away from people as their exhaled breath contains CO2. If your monitors are too close they may give a misleadingly high reading.
Measurements within a space can vary during the day due to changes in the numbers of occupants, activities, or ventilation rates. Doors and windows being open or closed can also have an effect.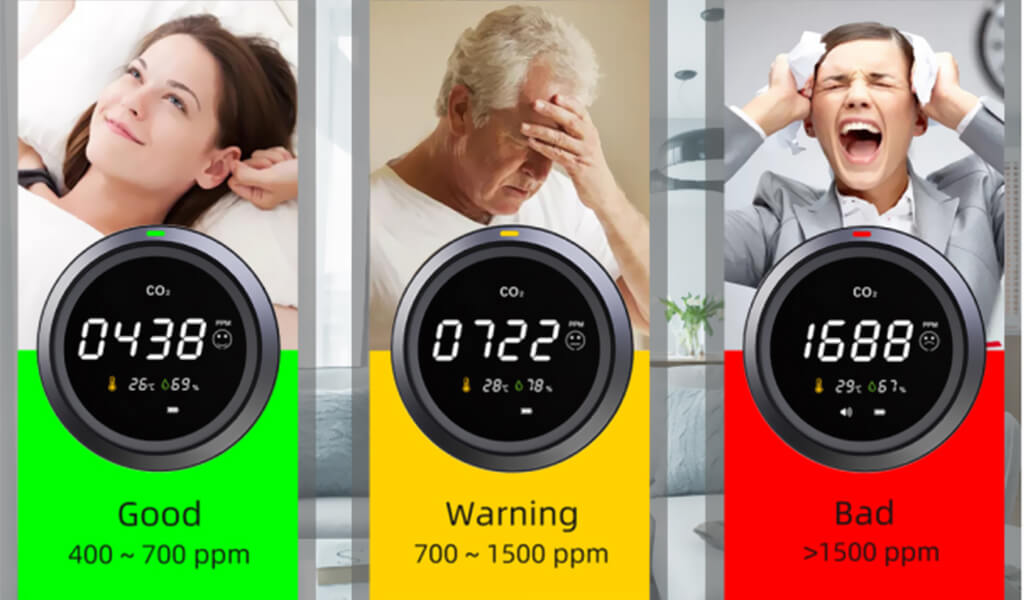 The amount of CO2 in the air is measured in parts per million (ppm). If your measurements in an occupied space seem very low (far below 400ppm) or very high (over 1500ppm), it's possible your monitor is in the wrong location and you should move it to another location in the space to get a more accurate reading.
Instantaneous or 'snapshot' CO2 readings can be misleading, so you should take several measurements throughout the day frequently enough to represent changes in the use of the room or space. Then calculate an average value for the occupied period.
You may need to repeat monitoring at different times of the year as outdoor temperatures change and this will affect worker behavior relating to opening windows and doors when your space relies on natural ventilation.
Your readings will help you decide if the space is adequately ventilated. ——Health and Safety Executive.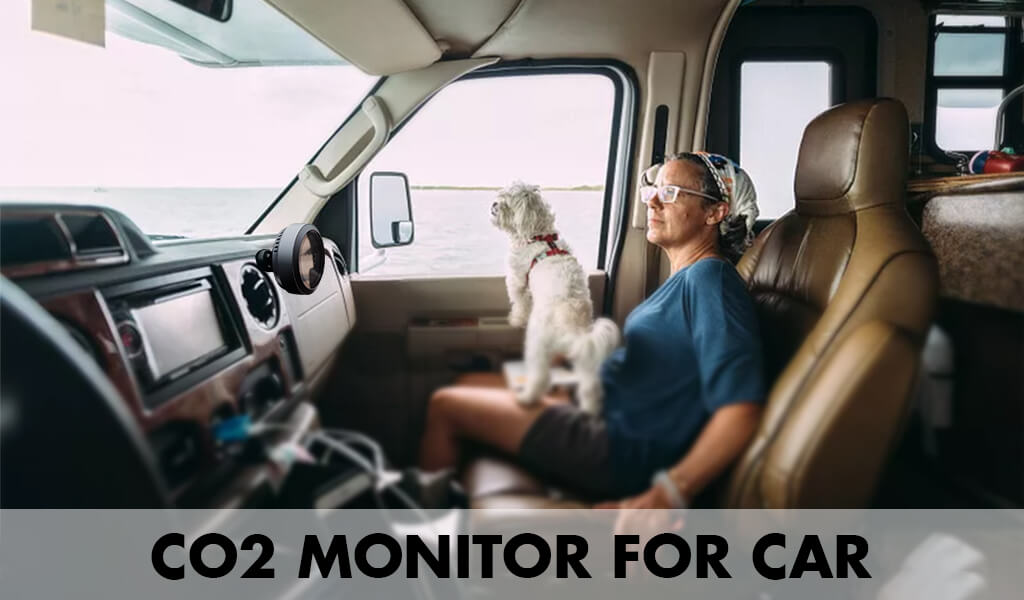 Know the air quality
Living in an environment with substandard air quality for a long time will cause you and your family a certain degree of harm. Therefore, it is necessary for everyone to know the air quality of the place where you live. Our indoor air quality monitor can accurate detect whether your home air quality clearance, includes CO2, temperature, humidity. Let you know if your air is unsafe and you need to take some actions.
Notice
1) This co2 monitor should not be dipped in water, nor should it be placed in a high-temperature environment exceeding 60'C.
2) This air quality sensor belongs to a precision measuring instrument and shall not be dismantled without authorization.
3) It can not be measured in the environment of organic gas with too high a concentration for a long time.
4) Built-in lithium battery, when measuring the air quality in the car, please do not put the carbon dioxide monitor with lithium battery in the sun;
Packing Listing
PTH host *1
18650 lithium batter*1(built-in)
User manual*1
USB cable*1
Product comparison
| | | |
| --- | --- | --- |
| | CF-5 | CF-2 |
|   |   |   |
| CO2 | Yes | No |
| HCHO | No | Yes |
| Temperature& Humidity | Yes | Yes |
| Battery | 18650 lithium battery | 18650 lithium battery |
Specifications
| | |
| --- | --- |
| Temperature Measurement Range | Internal sensor: -10°C ~+40°C±1℃ |
| Humidity Range | 20-80%(±5% RH) |
| Carbon Dioxide Value | Resolution:1 ppm Range:400~5000 ppm |
| Power Supply | 18650 lithium batter/Li-2400 mAH |
| Alarm Range | Optional, Default |
| Communication Interface | USB |
| Shelf Life | 1 Year |
| Weight | 4.23 Ounces |


Product Questions
Does an audible alarm sound if/when co2 levels become dangerous?
Answer:No alarm sound. When carbon dioxide levels exceed normal, the indicator lights turn red and the facial expression becomes depressed.
Question:Does the device maintain a log of measurements over time?
Answer:If it does, I'm not sure you can access it. There isn't a way to view it from the device itself.
Question:Can the temp be set at Fahrenheit or Celsius?
Answer:Yes, both settings can be switched at will.
Question:Can the detector measure carbon dioxide?
Answer:Yes, this indoor air quality detector is built-in DART infrared sensors that can accurately detect the air of Carbon Dioxide(CO2).
Question:How to calibrate the detector?
Answer:The detector will be calibrated automatically, you need to wait for about one minute.
Question:Would this text or email me?
Answer:No. Not connected to wifi.
Customer review from Amazon