Description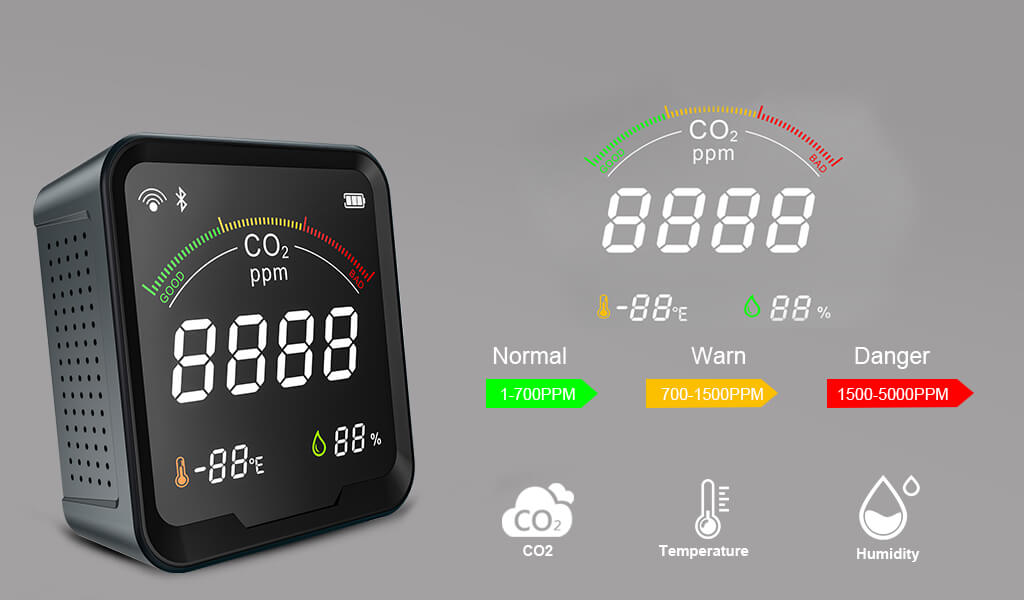 Product Description
Carefor CF-9C portable Carbon Dioxide Monitor is a very helpful tool to let you know whether the environment you are staying is healthy enough. It measures CO2, Temperature and Humidity in real time. Its excellent portability will help you measure air quality anytime & anywhere. You can carry it with you to any places you go for the peace of mind you deserve. And its Buzzer Alarm function will remind you of keeping good ventilation at anytime. The device is equipped with an infrared sensor which is the most advanced and accurate sensor on the market now. So that you don't need to worry about its accuracy and just keep enjoying the benefit and convenience it brings you all the time!
Carbon Dioxide Monitor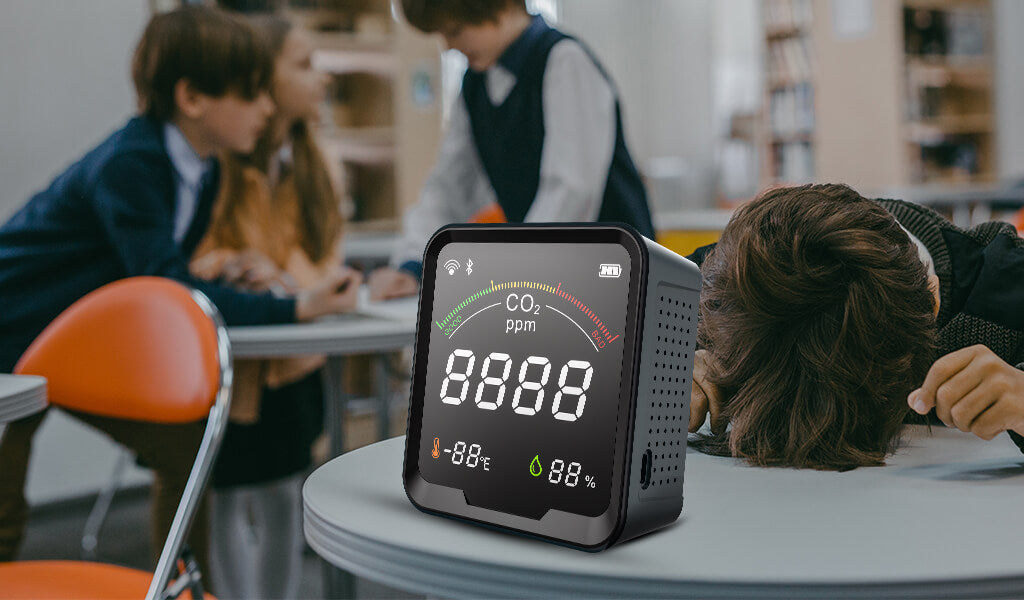 Letting fresh air come into indoor spaces can help remove air that contains virus particles and is important in preventing the spread of Covid-19. So that it's so important to place a Carbon Dioxide sensor around your family and you, especially the families with young children. We have to try our best to keep the Covid-19 further away from us. Our CO2 detector is portable so schools and other settings will be able to move them around to test their full estate, starting with areas they suspect may be poorly ventilated, and it will reminds you when you have to open the window and let fresh air in!
Key Features:
Advanced CO2 Sensor: Carefor CF-9C indoor air quality meter is equipped with an infrared sensor which is the most advanced and accurate sensor on the market, which enable fast responsive to the environmental condition.
Wide measuring range: Temp range:-10℃-40℃(±1℃):14°F-104°F(±33.8°F), humidity range: 20-80%(±5% RH), and Carbon Dioxide Value: Resolution:1 ppm  Range:400~5000 ppm.
Easy and clear screen readings: Showing big size CO2 readings in the middle, temperature in the left bottom and humidity in the right bottom clearly.
User friendly operation.
Long battery life: equipped with 2400mAh rechargeable battery, power supply by USB Charging.
Portable size: Size of the Carbon Dioxide detector is 98mm*90mm*40mm, which is easy to take it with you anywhere.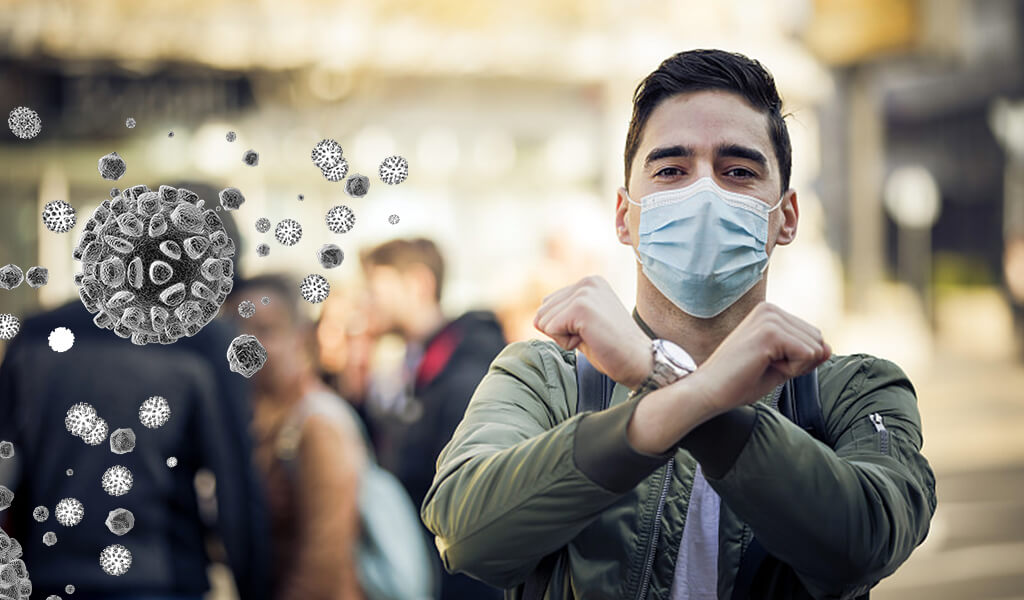 We know that the disease is caused by the virus, which spreads between people in several different ways.
The virus can spread from an infected person's mouth or nose in small liquid particles when they cough, sneeze, speak, sing or breathe. These particles range from larger respiratory droplets to smaller aerosols.
Current evidence suggests that the virus spreads mainly between people who are in close contact with each other, typically within 1 metre (short-range). A person can be infected when aerosols or droplets containing the virus are inhaled or come directly into contact with the eyes, nose, or mouth.
The virus can also spread in poorly ventilated or crowded indoor settings, where people tend to spend longer periods of time. This is because aerosols remain suspended in the air or travel farther than 1 metre (long-range).That's why we need a Carbon Dioxide Monitor to tell the ventilation condition all the time.
People may also become infected by touching surfaces that have been contaminated by the virus when touching their eyes, nose or mouth without cleaning their hands.
How to reduce the risk of getting Covid-19 ?
There are many things you can do to keep yourself and your loved ones safe from COVID-19. Know your risks to lower risks. Follow these basic precautions:
Follow local guidance: Check to see what national, regional and local authorities are advising so you have the most relevant information for where you are.
Keep your distance: Stay at least 1 metre away from others, even if they don't appear to be sick, since people can have the virus without having symptoms.
Wear a mask: Wear a well-fitting three-layer mask, especially when you can't physically distance, or if you're indoors. Clean your hands before putting on and taking off a mask.
Avoid crowded places, poorly ventilated, indoor locations and avoid prolonged contact with others. Spend more time outdoors than indoors.
Ventilation is important: Keep an carbon dioxide air quality meter with you, Open windows for indoors to increase the amount of fresh air when the air quality meter alarms.
Avoid touching surfaces, especially in public settings or health facilities, in case people infected with COVID-19 have touched them. Clean surfaces regularly with standard disinfectants.
Frequently clean your hands with soap and water, or an alcohol-based hand rub. If you can, carry alcohol-based rub with you and use it often.
Cover your coughs and sneezes with a bent elbow or tissue, throwing used tissues into a closed bin right away. Then wash your hands or use an alcohol-based hand rub.
Get vaccinated: When it's your turn, get vaccinated. Follow local guidance and recommendations about vaccination.


Specifications
| | |
| --- | --- |
| Temperature Measurement Range | Internal sensor: -10°C ~+40°C (±1℃) |
| Humidity Range | 20-80%(±5% RH) |
| Carbon Dioxide Value | Resolution:1 ppm  Range:400~5000 ppm |
| Power Supply | 18650 lithium batter/Li-2400 mAH |
| Alarm | Buzzer Alarm |
| Communication Interface | USB |
| Shelf Life | 1 Year |
| Size | 98mm*90mm*40mm |