Description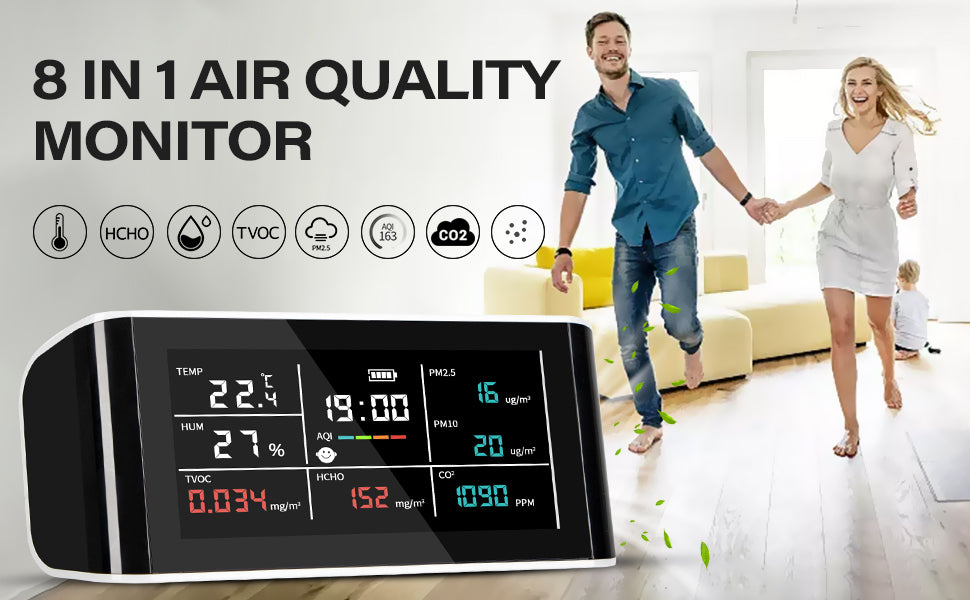 Make invisible air pollution visible, and see what's in the air you breathe.
Humans breathe about 28800 times a day. 95% of our homes have air quality problems and pollution factors, but we can't really know the air we breathe every day. Our Carefor DM-69 air quality monitor uses NDIR sensors to accurately detect a variety of pollution factors in the air, like PM2.5, PM10, CO2, formaldehyde(HCHO), TVOC, temperature and humidity. Especially since the outbreak of COVID-19, many medical experts and air scientists have shown that poor air quality can seriously affect people's health. The high concentration of carbon dioxide indicates that the current environmental ventilation effect is terrible, which increases the risk of virus transmission. In addition, too high humidity, excessive dust, harmful gases emitted by furniture and construction waste will aggravate allergic symptoms. The DM-69 air quality detector can be used in homes, schools, gyms, offices, and restaurants, alert you to unsafe levels via an indicator light and track air quality, which help you to improve the quality of life.
Air quality Monitor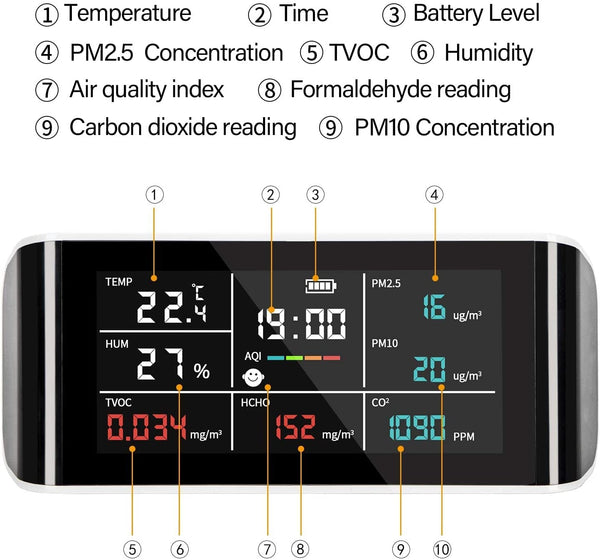 KNOW YOUR AIR
Track temperature, humidity, carbon dioxide (CO2), TVOC, Formaldehyde (HCHO) and particulate matter (PM2. 5, PM10) in your space, know the air which you have breath, keep your family safe by using the DM-69 air quality sensor.
8 In 1 Multi-Functional Monitor
8 in 1Conception :

HCHO + PM2.5 + PM10 + Particules + CO₂ + Temperature + Humidity + AQI.

TFT color LCD screen

Continue measuring

Mute the buzzer

Display the curve

Alarm setting

Zero calibration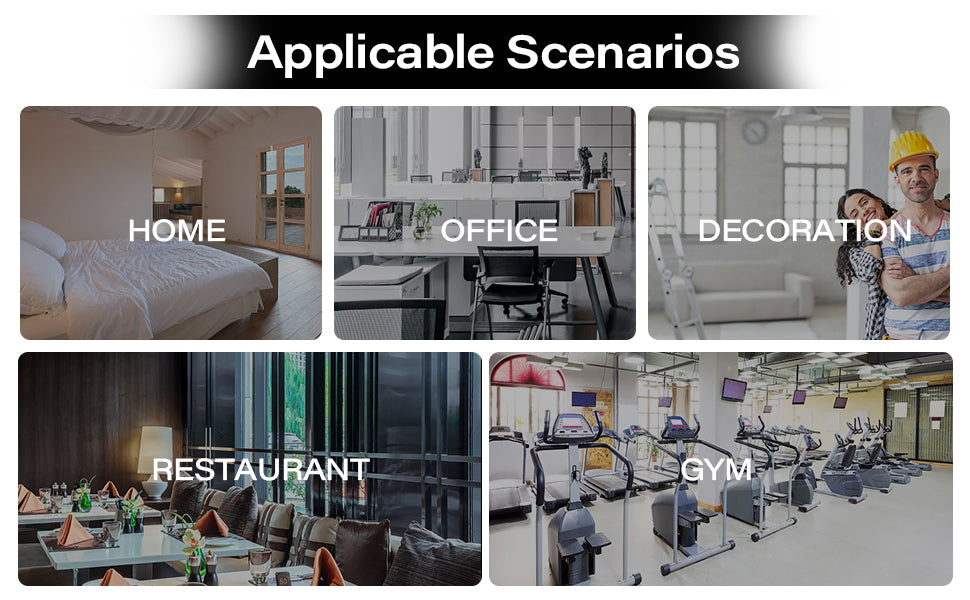 Features:
Multifunctional: 8-IN-1 indoor air quality monitor can detect carbon dioxide (CO2), formaldehyde (HCHO), PM1.0, PM2.5, PM10, volatile organic compound gases (TVOC), temperature and humidity. 

Full Visibility: The air quality detector features a 5.5 inches backlit LCD screen, let you know all key indoor air factors in real-time. The AQI bars and icon send you the color-coded visual indication of the AQI(Air quality index): Green (Good), Yellow (Fair), Red (Poor).

Long Time Standby: With the built-in rechargeable Lithium battery(2000mAh), the air quality monitor can work for 8-10 hours continuously. Recommend to connect with USB power adopter for full working hours.

Versatile: The air quality tester is designed for use at the home, office, school, public building, car, or anywhere indoor.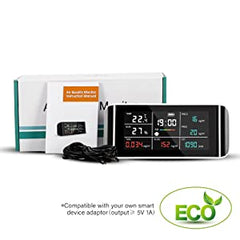 HIGH ACCURACY INDOOE AIR QUALITY MONITOR
The detector is designed with advanced Non-Dispersive Infrared (NDIR) technology, and it provides highly accurate measurements. The accuracy can reach ±50ppm or ±5% of reading.
The sensor has a long service life, up to 15 years.
Better Air, Better Life
For patients with allergic symptoms, maintaining good air quality can reduce the recurrence rate of allergy. At the same time, good air quality can also comfort the mood, help breathe, and reduce the possibility of headache and cough. According to scientists, a health air environment will also reduce the speed of virus infection too.
Product Comparison
DM-69

CF-5

PM2.5
Yes
NO
PM10
Yes
NO
HCHO
Yes
NO
TVOC
Yes
NO
AQI
Yes
No
CO2
Yes
Yes
Temperature& Humidity
Yes
Yes
Data Export
Yes
Yes
Battery

2000 mAh

 lithium battery
18650 lithium battery


Specifications
Hardware

      

      Battery

Lithium battery with 2000 mAh capacity

Mode

DM-69


Display

LCD

Sensors

Temperature

 

Range

-10°C to + 60°C

Accuracy

±0.5°C

Humidity

 

Range

20% to 85% RH

Accuracy

±5% RH

CO2

 

Range

0 – 5000 ppm

Accuracy

±50 ppm or ±6 % of reading

TVOC

 

Range

0.005-9.999mg/m3

Accuracy

±15 % of reading

HCHO

 

Range

0-2mg/m3

Accuracy

 

PM2.5

 

Range

0-999ug/m3

Accuracy

±10ug/m3

PM10

 

Range

0-999ug/m3

Accuracy

±30ug/m3

AQI

 

Range

 

Accuracy