Description
Description:
ThermElc RC-5+ Temperature recorder features a plug-and-play USB port interface and allows for faster access to data collected in any cold chain management process. such as pharmaceuticals, food, life science, cooler boxes, medical cabinets, fresh food cabinets, freezer and laboratories. It generates PDF report automatically after connecting to PC or Android Phone, no software needed and encryptable via PC. Data could be queried, saved, printed, and exported in word/excel/txt /PDF format. It has wide measuring range: -30 ~ +70 °c with an internal sensor and large record capacity of 32000 points. ThermElc RC-5+ Temperature recorder will be an ideal choice for you!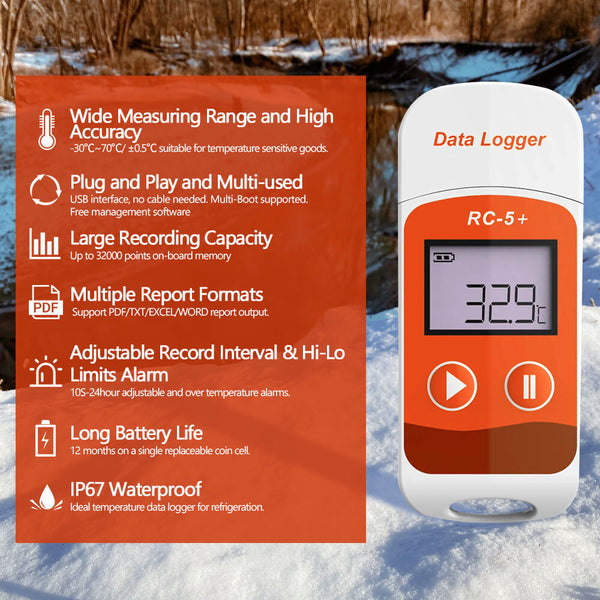 Temperature recorder
Key Features:
Multi-use temperature data logger with wide measuring range (-22℉~158℉/-30℃~70℃) and high accuracy (±0.9℉/±0.5℃).
Upgraded version of RC-5 with new functions of Auto PDF report (encryptable via PC or Android phones); Restart logger by button pressing; double battery life up to 12 months; external temperature sensor available for purchase.
Built-in USB port, no cable, no reader, even no software required to download data.
Lower power consumption and battery replaceable; records up to 32,000 points.
More features as IP 67 waterproof protection, 5 alarm ranges, ℃/℉ options, Excel/PDF report formats, free software for Windows & mac OS and etc.

Plug into a computer or Android phone (required OTG converter), read PDF report easily. Restart by long-pressing the left button.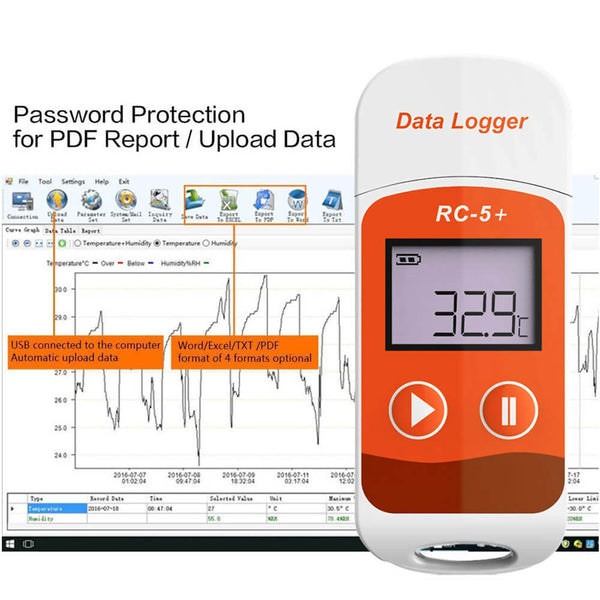 New Functions of the new one compares to the old version temperature data recorders:
Auto PDF Report: The new-added function allows the data loggerto generate a PDF report automatically.
Password Protection: Optional password protection will keep your datasafe and sound,
Double the Battery Life:  with a battery life up to 12 months (15℃~23℃/45%RH~75%RH), which doubles battery lifeof the old temperature loggers.
 

 

 

RC-5

RC-5+

RC-5+ with probe

Record capacity

32,000 Points

32,000  Points

32,000  Points

Temperature Range

-30°C ~ +70°C

-30°C ~ + 70°C

-40°C ~ + 85°C

Battery Life

6 Month

12 Month

12 Month

Connection Type

USB

USB

USB

Auto PDF Report

No

Yes

Yes

Restart by press button

No

Yes

Yes

Need Software

Yes

No

No

Password protection

No

Yes

Yes

External sensor

No

No

Yes
Package included:
1* ThermElc RC-5+ temperate data logger
1* CR2032 battery in the logger
1* User manual
1* 2-Year calibration certificate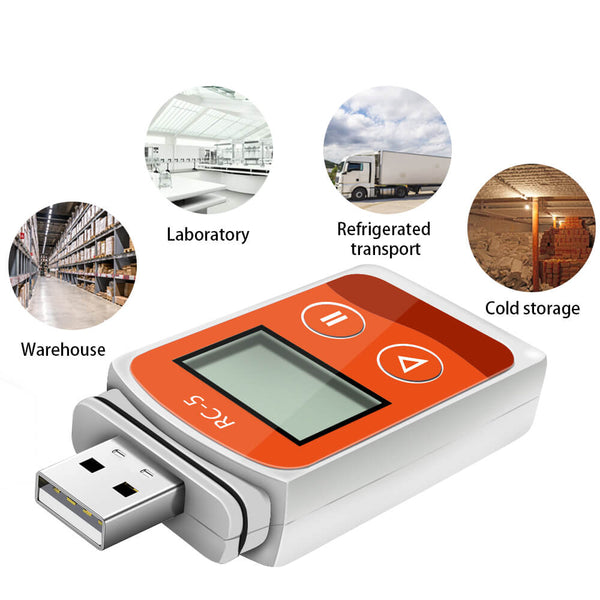 Temperature Data Logger Applied in COVID-19 Vaccine Transportation and Handling
As we know, COVID-19 pandemic outbreak at the end of Year 2019 and spreading all over the world. Billions of people are suffering from the pandemic. Thus equitable access to safe and effective vaccines is critical to end the COVID-19 pandemic, so it is hugely encouraged to see so many vaccines proving and going into development.
How to carefully handling the vaccines and monitoring the temperature of the vaccines is very crucial during the whole procedure of the transportation and storage.
Vaccine Cold Chain
A cold chain is a temperature-controlled supply chain that includes all vaccine-related equipment and procedures. The cold chain begins with the cold storage unit at the manufacturing plant, extends to the transport and delivery of the vaccine and proper storage at the provider facility, and ends with administration of the vaccine to the patient. Manufacturers, distributors, public health staff, and health care providers share responsibility to ensure the vaccine cold chain is maintained from the time vaccines are manufactured until they are administered.
When transporting COVID-19 vaccine, validate the temperature whenever the storage container is opened. Minimize the total transport time to reduce potential risk for a temperature excursion due to a storage unit or thermal packaging system failure. A temperature monitoring and data recorder must be utilized in transport.

Setting Parameters:
Log Clock: Not configurable. The time will sync with your computer after user clicks the Save Parameter button under the Parameter tab.
S/N: Not configurable.
Trip Description: Configurable. The info entered will be shown on the report, it can be used to differentiate one logger from another.
Log interval: Configurable. Means how often our user wants the logger to perform a reading, it can be 10S, 1minute or 1day.
Start Delay(H): Configurable. Means how long the logger will starts recording after you press the button on the logger.  
Press button: Configurable. Press on the play button for 4 seconds on the logger to start recording while the pause button is to stop recording.
Temperature Unit: Configurable. Celsius or Fahrenheit.
High/low limit: Configurable. The upper and lower alarming point you want to set.
Technician Parameters
Sensor: Internal NTC thermal resistor, no external sensor supported
Temperature measuring range: -30°C~+70°C/-22℉~158℉; Resolution: 0.1°C
Accuracy: ±0.5 °C(-20°C~+40°C); others, ±1°C
Temperature unit: °C or °F optional
Communication interface: USB
Power supply: CR2032 replaceable battery
CE certificate
Nist certificate
IP67 waterproof grade
Dimensions: 80mmx25mmx12mm(LxWxH)
Shelf Life/Battery: 1 year; Log Interval: 10S~24H
Temperature unit: °C or °F optional; Record capacity: 32000 points(MAX)
Multiple-use: data can be removed and start a new round by our software
Data could be queried, saved, printed and exported in Excel/PDF format.
Package Included: 1 x RC-5+ Data Logger; 1 x CR2032 Battery; 1 x User Manual.