Description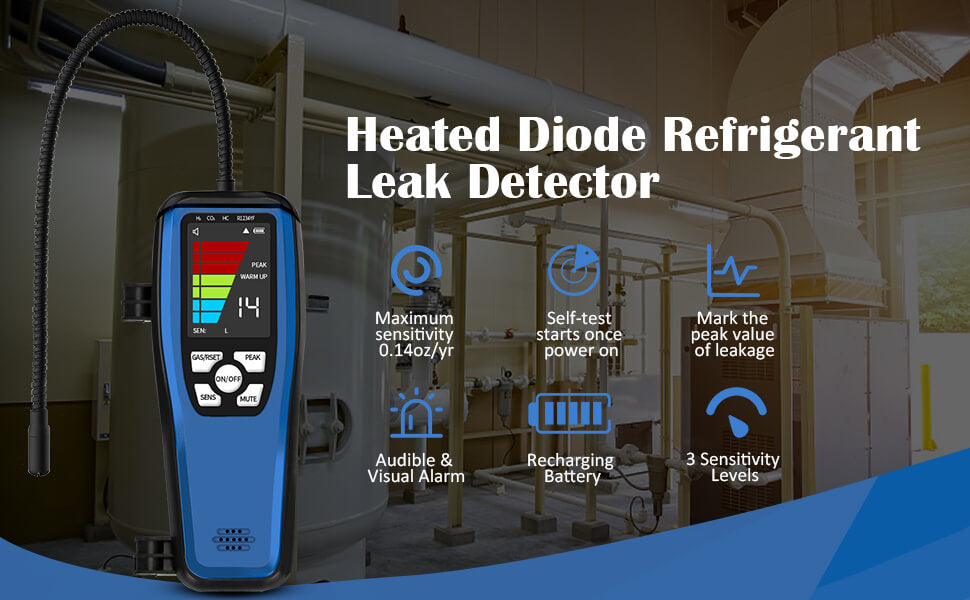 Aprvtio ALD-200 Refrigerant Gas Leak Detector is a powelful and economic HVAC tool, which is equiped with sensitive sensor, big display screen, easy-operate buttons and hand-held shapes. The freon leak detector uses the heated diode detection principle. Maximum sensitivity up to 0.14oz/yr and response time is less than 3 seconds. ALD-200 is equipped with large LCD screen, so that the test results are more intuitive. The exclusive design of appearance is in accordance with human body mechanics to make it the best experience for users.
Refrigerant Gas Leak Detector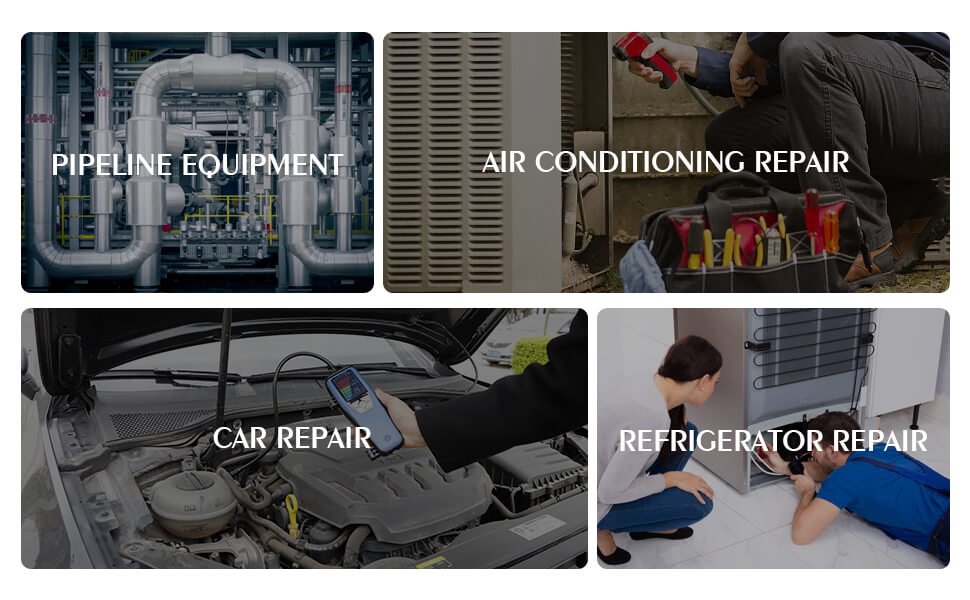 Key Features
Advanced Heated Diode Sensor: The freon detector is equipped with High-precision heated diode sensor with less interference from other gases (compared to corona sensor). It can quickly identify all halogenated refrigerants including CFCs, HFCs, HCFCs, HCs, HFOs and mixed refrigerants such as R11/R22/R404a/R410a/R600a/R1234yf

Easy to Operate:With five-key design and it allows to fast reset, mute, power on/off, adjust sensitivity, mark the peak value of leakage and makes LED screen visually display the leakage level and device status in one simple click.

Three Sensitivity Adjustments: The refrigerant gas leak detector can detect all kinds of halogen gas leakage in three sensitivities(L-M-H) adjustment and response the results in real time.

High Efficiency: The detector warms up in the 30s and respond in 3s; Maximum sensitivity up to 0.14oz/yr. The built-in 3000mAh rechargeable battery provides continuous 6 hours working time.

Worries Free Gas Detector:We offer 7*24 services and one-year warranty for the heated diode gas leak detector.
Heated Diode Sensor
High-precision heating diode sensor, Refrigerant Halogen Leak Detector can help you quickly identify all halogen refrigerants including but not limited to:
CFCs: R11, R12, R500, R503, etc.;
HFCs: R125, R134a, R404a, R410a, etc.;
HCFCs: R22, R123, R124, R502, etc.;
HCs category: R600a, R290, etc.;
HFOs: R1234yf, etc.;
Mixed refrigerants such as: AZ-50, HP62, MP39, etc.
Recharging Battery
Charging current: 5VDC 1A
When the battery is charged, the power indicator is as follows,
Charging status indication
Red light: charging
Blue light: charge is complete
Need to charge the battery when long time no use to prevent self- discharge reduced battery life. The longest storage time is no more than 6 months.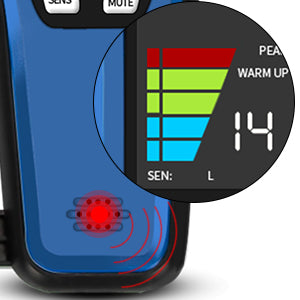 The alarm of leakage
The detected leakage intensity is proportional to the buzzer sound frequency. At the same time, the LCD screen bar graph will show the leakage intensity from bottom to top.
Visual tracking of the entire refrigeration system (all piping, hoses, fittings,
couplings, service valves, etc.) looking for lubrication oil leakage, damage and
corrosion signs, If it is present, may be a leak point.
Parameters
| | |
| --- | --- |
| Sensor Type | Heated Diode |
| Battery included | YES |
| Battery Capacity Required | Li-3000mA/h |
| Sensor Life | ≥ 500 hours |
| Minimum Sensitivity | 0.14oz/yr |
| Rechargeable | YES |
| Working time | continuous 6H |
| Charging time | 4 hours |
| Weight | 415g (14.6oz) |
| Size | 7.9 "* 3.3" *1.5" |